16. 10. 2020
Transatlantic Ruhr Fellowship Program 2020 – From In-Person to Virtual
When the COVID-19 pandemic brought many international fellowship and study abroad programs to a grinding halt this past summer, UA Ruhr New York leveraged their partnership with Lehigh University, the German American Chamber of Commerce New York, the Hasso Plattner Institute New York and other organizations to develop an online version of the 2020 Transatlantic Ruhr Fellowship Program. With all U.S. embassies shut down indefinitely and a travel ban in place, students were unable to obtain the necessary visas, let alone book a transatlantic flight. Rather than cancelling the program altogether, the UA Ruhr New York decided to postpone the internship part of the Transatlantic Ruhr Fellowship and turn the two-week academic program of previous years into a three-week certificate entrepreneurship boot camp and skills seminar.
As in previous years, a group of eleven highly qualified students from Ruhr University Bochum, TU Dortmund University and the University of Duisburg-Essen were selected from large a pool of applications. The aim of the fellowship program is to enable a small group of outstanding students to expand their international portfolio, promote and present the Ruhr area as a science and innovation hub, and strengthen transatlantic cooperation by introducing our talents and their skills to American companies and organizations.
With majors in Engineering, Business and Economics as well as Cultural Studies, the 2020 cohort brought to the table an impressive diversity of perspectives and expertise. During the three-week certificate program, fellows familiarized themselves with the basics of entrepreneurship and learned about topics such as business communication, labor laws and relations in transatlantic perspective, ethics and diversity, and organizational management. All fellows successfully passed the certificate program at the end of the three weeks.
In addition to the academic program, the Transatlantic Ruhr Fellows enjoyed numerous cultural events that included a virtual city tour through New York City as well as private virtual tours through the Metropolitan Museum of Art and the Tenement Museum. An American themed cooking competition was a big hit with everyone.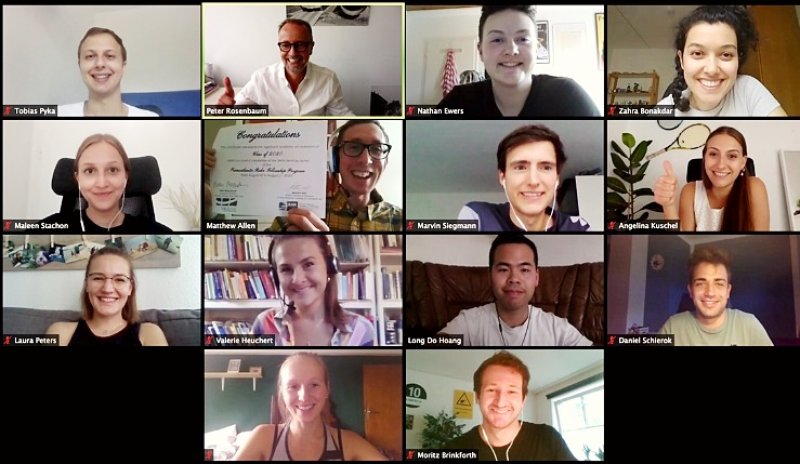 TRFP2020 Graduation
Despite the initial uncertainty, this year's Transatlantic Ruhr Fellowship turned out to be a great success. All Fellows enjoyed an incredible learning experience and also connected on a personal level. The online program had a number of distinct advantages such as greater availability of guest speakers from all around the U.S., flexible scheduling, and significant cost savings. In fact,this year's program will be further developed into a hybrid program for next year.
At this point, the 2020 fellows are waiting for travel restrictions to be lifted and consulates to reopen so that they can start their internship program in the Tri-State area.
More information about the program can be found in our official brochure: (Link)