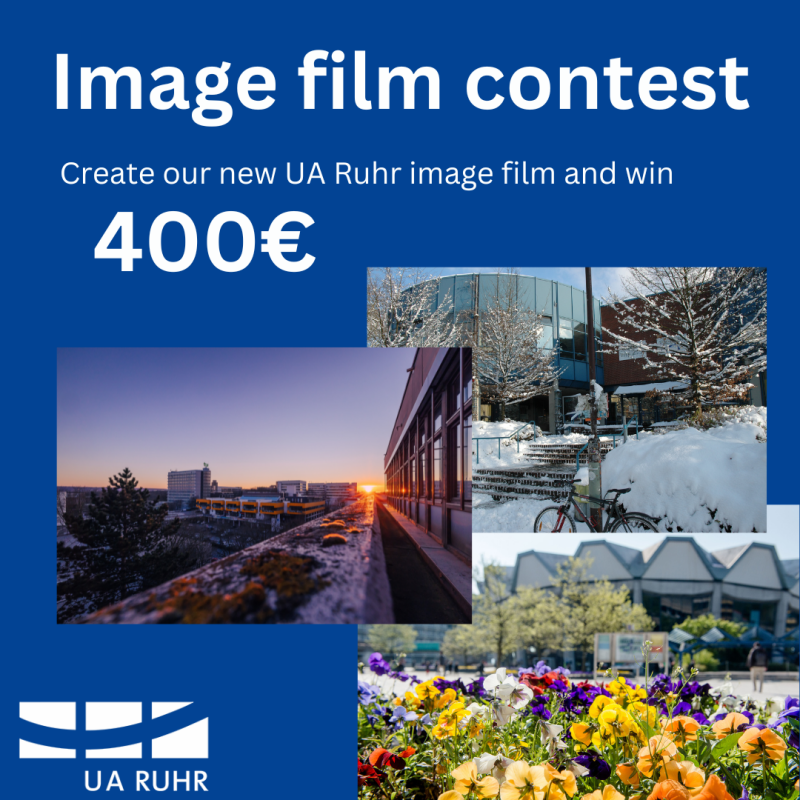 April 20, 2023
The North American office of University Alliance Ruhr is hosting an image film competition, where students are asked to create a 60 second image film featuring footage from all three of our campuses and giving North American audiences a glimpse into student life in the Ruhr Area.
EXTENDED DEADLINE!
The extended deadline to submit videos is now June 15th, 2023 at 11:59pm (CET).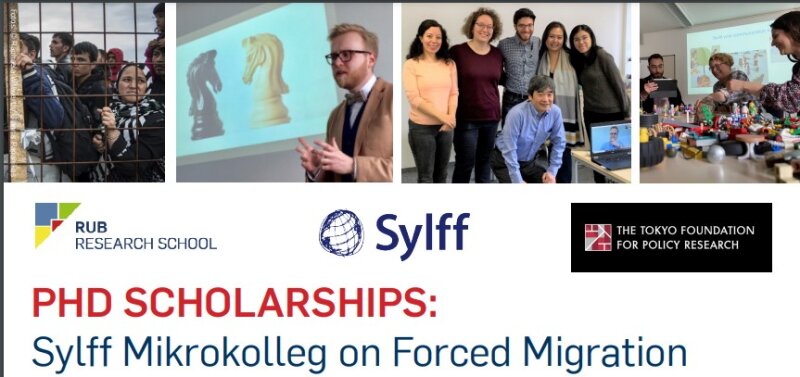 February 21, 2023
RUB Research School and the Tokyo Foundation for Policy Research invite excellent young researchers to apply for one of three doctoral research grants of the Ryoichi Sasakawa Young Leaders Fellowship Fund (Sylff) by April 14, 2023.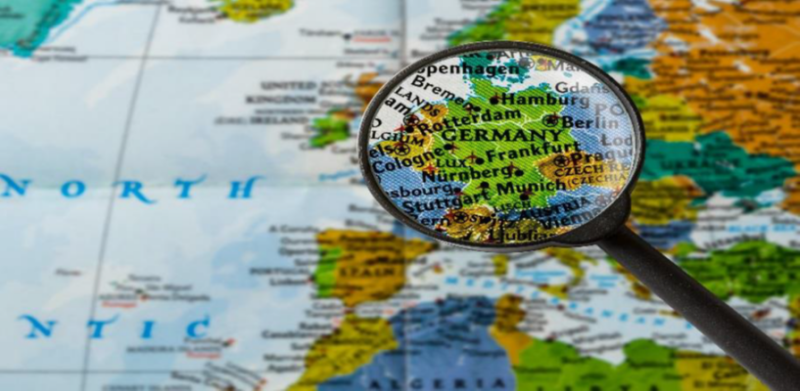 February 7, 2023
German Higher Education Institutions and Their Collaboration with Industry
June 11 – June 17, 2023
Bielefeld, Ruhr Valley, Düsseldorf, Aachen, Cologne, Bonn
November 30, 2022
University Alliance Ruhr, the German Center for Research and Innovation and UAS7, supported by the German Consulate General brought together high-level science diplomacy experts and practitioners on November 30, 2022, to deliberate on the role of science diplomacy and multilateralism for the most pressing global issues.

October 18, 2022
APPLICATION DEADLINE: 15 NOVEMBER 2022
PUT GERMANY ON YOUR RESUME NEXT SUMMER!
Gain access to top universities and top international companies in Germany as a "Ruhr Fellow."
The Ruhr Fellowship Program provides highly motivated undergraduate students in the United States with a unique experience to expand their portfolio and networks to one of the most dynamic and technologically advanced areas in Germany. As Germany's "Cradle of Industry", the Ruhr area has come to represent creativity and innovation with its internationally renowned companies, universities, and research institutes.
Pending final budgetary approval, we are looking for top students interested in a hands-on experience next summer as one of up to 10 Ruhr Fellows. From June 5, 2023 until July 28, 2023, you will participate in a two week intercultural immersion program at the university level followed by a six-week internship with one of Germany's leading companies located in the Ruhr area.
YOUR PROFILE
You are currently enrolled in your Sophomore, Junior, or Senior year in an engineering, science, or business degree program at one of the participating universities:
Harvard University
Lehigh University
Massachusetts Institute of Technology
Princeton University
Purdue University
Rutgers, The State University of New Jersey
University of California, Berkeley
University of Cincinnati
University of Pennsylvania
Yale University
You enjoy challenges and problem solving, and you can easily adapt in an intercultural environment.
You are interested in learning through working in the fields of engineering, science, or business.
You are interested in getting to know the Ruhr area culture as well as expanding your personal global network and consider working in a global environment.
German language skills are not necessary; however, previous experience in Germany or with the German language can be advantageous.
We are unable to accept applications from students with a German passport.
YOUR RUHRFELLOWSHIP INCLUDES:
Partial Stipend (up to approximately €600)
Two week culture seminar program at the host universities (including excursions)
Pairing with a Ruhr area company for a six-week internship
Access to top executives in exclusive networking events and company visits
Fee waivers for registration as a student at the participating universities
Housing fees in a dormitory room
The "NRW-Ticket" for public transportation
Health insurance
Leisure and cultural activities as organized by the host universities
Access to the universities' US alumni program and international network
Pairing with a German student (Buddy Progra
You will need to bring money for food and traveling/leisure expenses during your stay.
RUHR FELLOWSHIP ORGANIZERS
The Ruhr Fellowship Program is organized by the University Alliance Ruhr.
The University Alliance Ruhr is an alliance of three universities – TU Dortmund University, Ruhr University Bochum and the University of Duisburg-Essen – all located within 20 minutes of one another, along the Ruhr River. This is Germany's largest academic hub and home to 4 Fraunhofer Institutes, 3 Max-Planck Institutes and 14 Collaborative Research Centers selected for funding through the highly competitive DFG (German Research Society) process. The alliance of the three universities brings together over 120,000 students and over 14,000 researchers and professors to create a unique interdisciplinary approach and cutting-edge research opportunities.
THE RUHR AREA
The Ruhr area is a dynamic and exciting place to be. With over 5 million people, it is one of Europe's most important metropolitan areas and featured the European Capital of Culture in 2010. At the same time, half of the space is green – a landscape of forests, parks, fields, and beer gardens. Whereas the traditional coal and steel mills have been transformed into creative spaces and cultural hotspots, the area has retained its soccer culture as well as tradition. When you come to the Ruhr area, you will recognize immediately that you are not in a typical study abroad location. It is an untrodden territory you can discover for yourself, making new contacts in a remarkably welcoming and unique environment.
With your German student ID you will receive discounts at the campus cafeterias and for many cultural events. This is also literally your ticket to the entire state: Your ID gives you free access to the subways, buses, and regional trains in the entire state of North Rhine-Westphalia, the most densely populated area in Germany, stretching from Munster in the North through the Ruhr area to Dusseldorf, Cologne, Bonn, and Aachen in the South. Fellows will have plenty of opportunities to get to know this diverse area on a budget.
HOW TO APPLY
Please send the following documents via e-mail and as one PDF document to the New York office of the University Alliance (please see the address below):
Application Form (pdf file downloads above)
Resume
Statement of purpose in which you explain your academic development, your practical experience, and your motivation to participate in the program (max. 2 pages)
Transcript of records (an electronic printout is sufficient)
One confidential letter of recommendation from a professor or lecturer/researcher (may be sent directly from the lecturer/researcher to ruhrfellows@uaruhr.de)

October 13, 2022
Internship plus accompanying program in the summer of 2023: Start your international career in the New York metropolitan area!
ABOUT THE FELLOWSHIP
The Transatlantic Ruhr Fellowship Program offers students who study at the University Alliance Ruhr (UA Ruhr) the opportunity to gain insight into the US corporate culture and acquire practical professional experience in the New York metropolitan area (New York, New Jersey, Connecticut, Pennsylvania).
THE PROGRAM
Pending final budgetary approval, the fellowship program runs from July 24, 2023, until September 17, 2023 and consists of the following two components: A summer intensive centered around the topic of Entrepreneurial Mindset and an internship of approximately seven weeks in a renowned US company or international organization in the New York metropolitan area including New Jersey, Connecticut and Pennsylvania.
The seminars will cover the following key areas:
• Intercultural communication
• Entrepreneurship
• Introduction to the differences between US and German corporate culture
• Workshop for the development of leadership skills
• Career counseling
• Talent management
• Diversity in the workplace
• Working in the 21st century
PREREQUISITES
You must be enrolled as a student for the 2023 summer semester at one of the three UA Ruhr universities (Ruhr-Universität Bochum, Technische Universität Dortmund, Universität Duisburg-Essen) in Engineering, Natural Sciences, Economics, Liberal Arts or Social Sciences (Bachelor or Master). You are interested in an intercultural environment and would like to experience the professional working environment in the New York metropolitan area and expand your network.
Good command of the English language (B2 at a minimum) is expected!
APPLICATION DOCUMENTS
• Motivational letter of two pages at a maximum, in English
• US resume, in English
• Official language test verification for English at a B2 level or higher (e.g., high school diploma, DAAD Language Certification, TOEFL, Kaplan)
• Overview of your previous academic achievements (copy of your transcript preferably translated in English)
• Confirmation of enrollment
• Letter of recommendation (preferably in English) written by a teacher or professor of your faculty
THE TRANSATLANTIC RUHR FELLOW SCHOLARSHIP INCLUDES
• Partial grant for travel and stay in the form of a scholarship approx. in the amount of EUR 2275
• One-week Summer School centered around the topic of "Global Markets and Entrepreneurship" (including accommodation and excursions)
• Application process for the J-1 visa including the fee for issuance of the DS-2019 (certificate of eligibility for the J-1 visa)
• Matching for internship in a company in the New York metropolitan area
Each participant will contribute EUR 500/- prior to the start of the program. Participants will also bear the costs for the DAAD group insurance (approx. EUR 38/- per month) as well as the SEVIS fee and the U.S. Consulate fee for the J-1 visa.
APPLICATION DEADLINE: November 15, 2022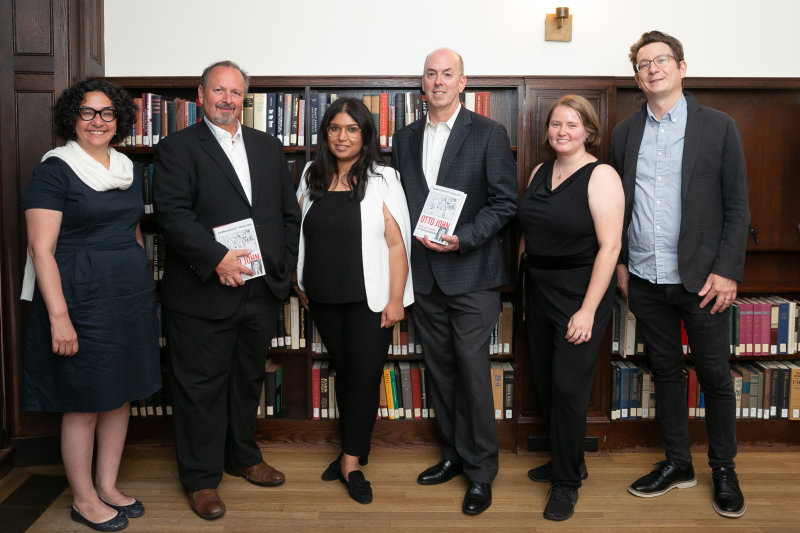 July 28, 2022
FOR RELEASE JULY 28, 2022 AT 1:00PM - Kira Heetpass
On the historic "night that it happened", July 20th the authors of the book "Otto John – Patriot oder Verräter" Prof. Dr. Benjamin Hett and Prof. Dr. Michael Wala engaged in conversation with Consul Yasemin Pamuk at the Roosevelt House Public Policy Institute at Hunter College, organized by the University Alliance Ruhr.
John's story as well as the book reads like a spy thriller. John was part of the resistance that tried to assassinate Hitler, fled after their failure, and later became the first President of the Verfassungsschutz (Protection of the Constitution) in the newly formed BRD. Then, on the night of July 20th, 1954, he left West-Berlin and showed up in an East German radio show on July 23rd, 1954, saying things that sounded like he had switched sides and was now in league with the communist regime. Upon his return to West Berlin, John was tried (and convicted) for treason. John himself said that he had been abducted by the KGB and forced to speak to not be killed. However, what was the truth? Can we confidently look at the evidence and try to decipher what may have happened? These are the questions that authors Hett and Wala tried to explore in their book.
Consul Pamuk gave these narratives life with insightful questions about the role of secret services – present and past, brought the historic significance of John's statements into a modern context and inquired about the process of writing the book itself. The authors never met Otto John, who died in 1997 but Hett explained that he was friends with John's lawyer who tried overturn John's conviction multiple times.
The audience was intrigued and engaged with the panelists with comments and questions about the person of John and the process of researching the book, which took the authors many years, because of complicated processes in obtaining files from government agencies.
The evening concluded with a reception, where many more questions were asked and answered, and the authors and audience thoroughly enjoyed their time.
The evening was organized by the University Alliance Ruhr and Roosevelt House Public Policy Institute at Hunter College.
For more information on the book (in German only) please click here: https://www.rowohlt.de/buch/benjamin-carter-hett-michael-wala-otto-john-9783498030308
For a pdf version of this release please click here.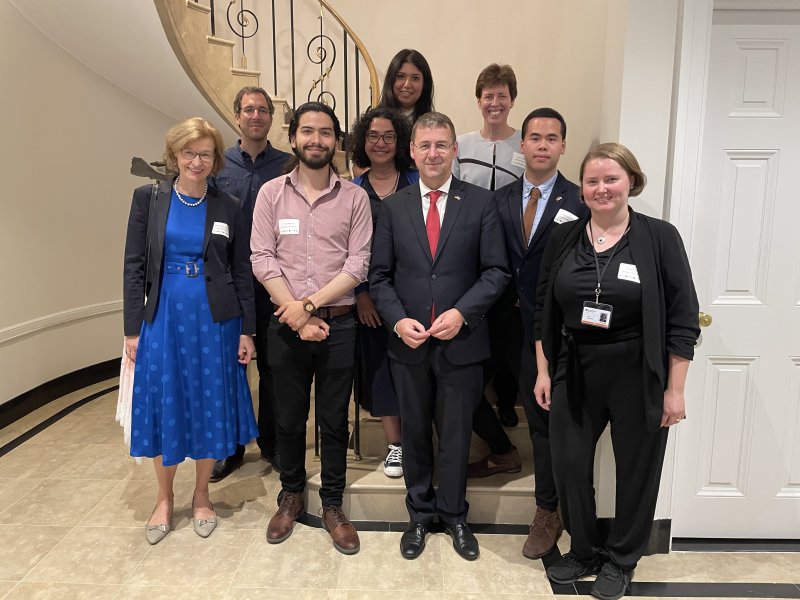 June 14, 2022
FOR RELEASE JUNE 14, 2022 AT 4:00PM - Kira Heetpass
The University Liaison Offices of the 15th floor of the German House in New York City had a great summer reception this past Thursday, June 9th 2022 at the private residence of the German Consul David Gill.
In his opening speech consul Gill spoke of the challenges the academic world has faced in the past years, including the shift towards digitalization brought on by the COVID-19 pandemic, as well as giving a statement about the now ongoing war in Europe. Since Russia's unjustified invasion of Ukraine, there is an even greater need to build stable and enriching transatlantic friendships. The sciences and an academic connection play an important role in forming these bonds and establishing diplomatic relations across the disciplines and nations.
The evening was accompanied musically by Eleanor Dubinsky and Dario Acosta Teich, who played narrative driven jazz inspired pieces as well as an audience favorite – Nena's "99 Luftballons".
The Liaison Offices include prestigious German institutions such as the University Alliance Ruhr, the University of Cologne, the University of Freiburg, the University of Heidelberg, Campus OWL and UAS7 – German Universities of Applied Sciences.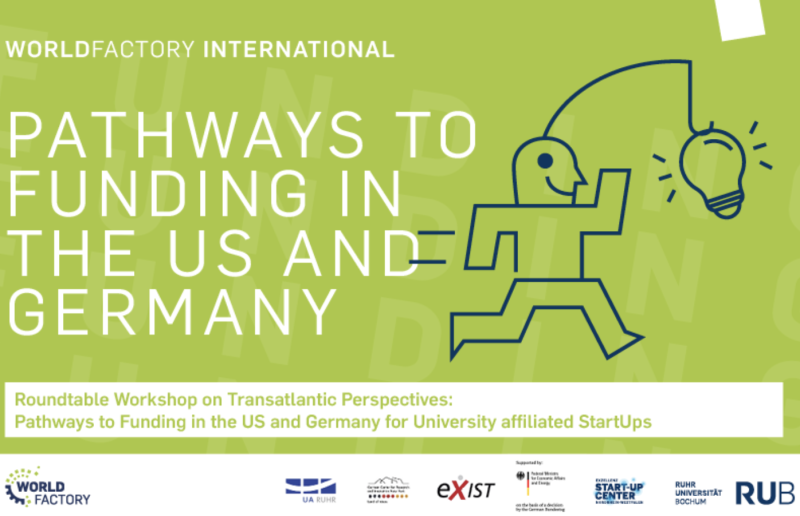 May 13, 2022
FOR RELEASE MAY 13, 2022 AT 4:00PM - Long Do Hoang
The Resource guide was developed as a product of the virtual workshop roundtable "Pathways to Funding in the US and Germany", which was held in January 26, 2022 and co-organized by the DWIH New York, and Worldfactory International of Ruhruniversity Bochum.
The goal of the roundtable was to invite startup founders with a university affiliation and experts and have an interactive workshop. The different teams established multiple valuable insights that are combined by our joint roadmap. Special focus was given to university-affiliated startups with a tech / digital business model and the unique position they occupy in 2021 / 2022 with reference to funding and funding opportunities.
Various topics like the diversification and increased internationalization of various models of funding, the transatlantic start-up ecosystem, socially sustainable business models, and pathways to international funding opportunities were discussed during the event. We are inspired by the excellent speakers and panelists who not only brought their expertise to the very hands-on workshop, but also actively submitted their ideas and knowledge to our very own Resource guide!
Take a look and download the official "Pathways to Funding in the US and Germany for University Affiliated Startups - Resource Guide"
Or watch the event on Youtube.
More information about the event itself can be found here.

April 26, 2022
FOR RELEASE APRIL 26, 2022 AT 12:00P.M. - Long Do Hoang
Prof. Dr. Markus, 78-year-old emeritus professor of physics at TU Dortmund University, has endowed the prize of €10,000 to promote ludic science - i.e. science out of playfulness - in chemistry and physics. This involves discoveries that have resulted from research conducted not with a specific application in mind, but simply out of curiosity. GDCh has taken over the international call for nominations.
Prof. Dr. Markus is the donor of the award. He grew up as a child of German parents in Chile, where he studied mathematics, biology, chemistry and physics at the Universidad de Chile in Santiago. In 1965, he continued his studies of mathematics and physics in Heidelberg, where he also received his doctorate in 1973. Prof. Markus did research at the Max Planck Institute for Biophysics in Frankfurt am Main in 1974 before he moved to the Max Planck Institute for Nutritional Physiology (now MPI for Molecular Physiology ) in Dortmund in 1975 as a research associate in the department of biochemist and biophysicist Benno Hess. In 1988, he habilitated at the University of Dortmund, where he worked first as a Privatdozent and from 1997 as an associate professor. Prof. Markus has led his own research group at the MPI of Molecular Physiology since 1993.
With the Mario Markus Prize for Ludic Science, the GDCh wants to recognise a scientific work in the field of natural science that is "playful". The term "playful" is used here to designate discoveries that arose from research that was undertaken not with any specific application in mind, but simply out of curiosity about the natural world.
Nominations are open until May 30, 2022!
More information here.